WHEN BUILT, TEXAS MOTORPLEX BECAME ONE OF THE SEVEN WONDERS OF DRAG RACING WORLD
by Bobby Bennett
Thu, 2021-10-07 20:10
Some might find it hard to believe the Texas Motorplex, one of drag racing's seven wonders of the world, was inspired by the need for a clean toilet.
The year was 1981, and popular Funny Car racer Billy Meyer was driving his iconic Skoal Bandit Chevrolet Citation. After a season that started off with controversy because of Meyer's tobacco-based sponsorship in the Winston Drag Racing Series, Meyer's sponsor, Lou Bantle, the Chairman of the Board at U.S. Tobacco, decided to bring his wife to the drag races for the weekend.
While drag racing fans marvel at the classic days of drag racing at Englishtown Raceway Park, the experience was not conducive to the corporate direction drag racing was headed.
The Bantles had flown private, and when they deplaned, were met with 100-plus degree weather. Then the Bantles got to the track, and the amenities were lacking.
"They came in, and there's not a bathroom in sight, outhouses only at the time," Meyer recalled. There are no suites. They didn't have suites at Englishtown, and it's 104 degrees."
The saving grace for Meyer, who was an unpublicized teammate with Larry Minor Racing and driver Gary Beck, had a lounge with a clean restroom in the hauler.
It was quite the shock for the Bantles, who had previously been in Daytona with their Winston Cup team, and were served caviar and champagne. Needless to say, they left unimpressed with the straight-line sport.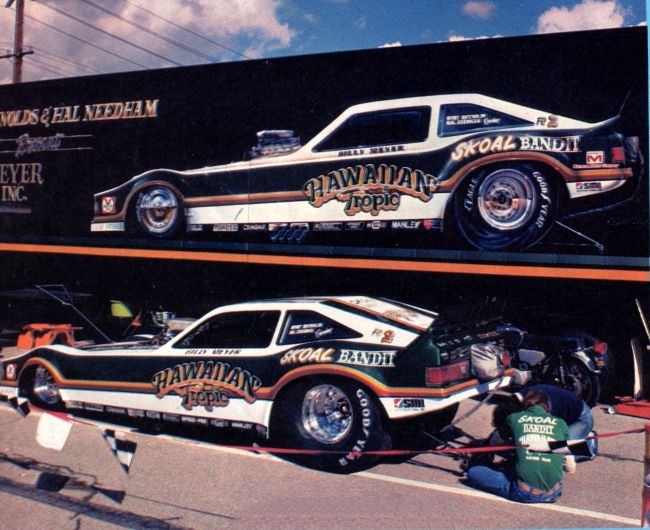 Hosted on Fotki "After that, they basically just blew us off," Meyer admitted. "Even though [drag racing] was good for their product sales, they didn't want to be involved. I lost that sponsorship. That was the first sponsor I ever lost my life."
Meyer came home to Waco, Texas, and while he signed Chief Auto Parts/7-Eleven as a replacement, he began drawing up plans to ensure the Englishtown fiasco didn't cost him another deal.
The more Meyer relived the Bantle experience, the more he became incensed to make his dream a reality.
"We had a major league sport that was playing in minor league stadiums," Meyer explained.
Just how meticulous was Meyer in his preparation for the first drag racing super track since Dallas International Motor Speedway was opened in 1969?
Meyer still hung up on the restroom situation, made a trip to Texas Stadium, home of the Dallas Cowboys.
"I specifically went to Texas Stadium, and I counted all the bathrooms there," Meyer admitted. "I put one more bathroom in this place than Texas Stadium had, which was 76 bathrooms at the time. I wanted to be able to say to the news that we had more bathrooms than them. So that was why I did it. No question. And everybody thought I was crazy."
With the plan in hand, Meyer took his plan to the local government officials.
"The property where the track is located was not in city limits," Meyer explained. "I went to nine or ten city council meetings to try and get them to annex us into the city so we could be under city law and order. This way, we could be protected from noise ordinances and lawsuits from this."
With regulations and procedures in place, Meyer and his team went to work on setting the forthcoming Texas Motorplex apart from other major drag strips.
While the concrete launch pads, a staple of the growing 1980s movement towards better racing surfaces, began extending further and further from established standards, Meyer decided in much the same fashion as he began bringing his race car to the track in an 18-wheeler. He took it to the next level.
Meyer opted to build an entire quarter-mile racing surface out of concrete. His Texas Motorplex would bring forth a concrete pour with no seams, unlike those found on many airport runways across the United States.
"They have a seam every 50 feet for the expansion," Meyer explained. And this is all post-tension, so it's all compressed together. It was the longest single pour in the history of post-tension at the time."
VSL, the company Meyer contracted for the job, was Dallas-based and had just done an experiment on Interstate 35, using post-tension for highways.
"It's 35 years old and still there," Meyer said with a smile.
Meyer, who had ruffled more than a few feathers in his time racing with the NHRA, said the NHRA at the time he built the track just didn't understand how to maintain the track, which was clearly ahead of its time.
"They didn't understand how to prep it at the time," Meyer said. "It was the only one, and they're only here once a year. And so we prepped it the first half a dozen years."
Meyer explained the biggest issue was knowing how to clean it after an oil spill.
"Oil doesn't soak into concrete; it does in asphalt," Meyer said. "So it was easier to clean up asphalt because you only clean up 50% of it. That's why you'd end up with one good lane, one bad lane by the weekend. And this one, it just takes longer to clean up because you got to clean it all up.
"So you had to use a different method. So cleaning solution, more like cleaning the shop floor, is the best way to describe it."
Clean-ups aside, Meyer believed his idea made sense for the future. Plus, race cars loved the run fast on concrete.
"Well, the car runs better all the way to the asphalt. And so it's like, duh, it's not brain surgery," Meyer said. "And it was more money than asphalt, but from a capital expense, it's been a whole lot less money than asphalt."
Some asphalt tracks, Meyer said, have repaved as many as five times since he built his original concrete quarter-mile.
"All I've done is grind it once," Meyer said. "So it was probably the best investment I ever made in my life and didn't know it."
This week at the Texas Motorplex's Stampede of Speed, it's all come full circle for the Funny Car driver who was perturbed by losing a sponsorship because of a lackluster facility. Meyer admits the track had a shelf-life that has extended well beyond what he expected.
"Actually, the business plan, which is old-style in a three-ring binder, hand-typed, the business plan was a 25-year business plan, total," Meyer explained. "We thought that the land would be way too valuable to continue to have a race track, and the noise would be too high for the growth of the city at that time. What I didn't know when I built that business plan is that the city of Ennis didn't want to grow."
Ennis might not have had a choice if the Super Collider project that was being built had been built down the road from the Texas Motorplex. There had been 13 miles already dug of the planned 52-mile circle when the program was killed on the first day of the Bill Clinton administration.
The supercollider project forced most of the land development to move north to Plano because of rising land costs.
Given a do-over, Meyer still stands by his vision, albeit a few different avenues along the road to success.
"Obviously, hindsight's usually pretty good," Meyer admitted. "I would've done things differently. I would've built the track a little differently. I would've made it where the guard walls were able to take them out, up to, say, 300 feet out. And I would've built it more like a stadium to be able to do other things with easier.
"As far as the race track goes, it's still the best racetrack in the world, and it was 35 years ago. I've never redone it, except I ground it one time. So from a cost-effective rate of return on investment, that ended up being great."
TEXAS MOTORPLEX MILESTONES
Nov. 1985
– Billy Meyer signs an agreement to host an NHRA event the following September, before ground was broken on the facility.
Jan. 1986
– Ground breaks for Texas Motorplex – designed to be the first post tension, all-concrete, quarter-mile facility specifically created for drag racing.
Sept. 25, 1986
– Darrell Gwynn runs 5.280 to set Top Fuel E.T. record with the first national event pass ever.
April 1987
– Texas Motorplex becomes the first non-NHRA-owned track to host two national events.
1987
– Texas Motorplex opens the Divisional 4 Hall of Fame, becoming the only track to host a hall of fame.
1987
– Texas Motorplex becomes the first facility to build a permanent hospitality structure to host fans in a VIP atmosphere; originally known as The Top Eliminator Club and now known as the Champion's Club.
April 9, 1988
– Eddie Hill turns in the first four-second quarter mile pass – a 4.990 run.
Oct. 19, 1997
– Cory McClenathan makes the first pass in the 320 mph-range – a 321.77 run.
Oct. 24, 1998
– Gary Scelzi, John Force, Warren Johnson and Larry Kopp lead the quickest qualifying field in NHRA history.
Oct. 23, 1999
– En route to his first NHRA championship, Top Fuel driver Tony Schumacher earns his first national event victory.
Oct. 23, 1999
– John Force clinched his ninth NHRA Funny Car championship by defeating Tommy Johnson Jr. in the quickest side-by-side race in Funny Car history.
Sept. 23, 2004
– Texas Motorplex becomes the first NHRA track in the country to have starting line balcony seating in the tower suites.
Sept. 26, 2004
– Greg Anderson clinches his second consecutive NHRA Pro Stock title at Texas Motorplex. Anderson clinched the title sooner than any other driver in NHRA history.
Sept. 23, 2007
– John Force and Kenny Bernstein crash after their second-round matchup in Final Eliminations. Force is severely injured and doesn't race again until the 2008 season. Force would earn a semifinal finish at Texas Motorplex in 2008 and a second-round finish in 2009.
Sept. 26, 2010
– John Force vows to win at Texas Motorplex again and earns his first final round appearance at Texas Motorplex since his 2007 crash, earning a runner-up finish against Matt Hagan.